<< Back
|
Atrium Villas: Seabrook Island, SC
For those looking for a perfect beach get-away, they need look no further than The Atrium at Seabrook Island.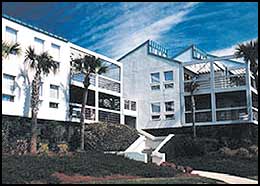 Located behind the gates of the Lowcountry-s most private island community, these innovative villas are located at the center of everything.
According to Jim Qualls, few properties are as conveniently located to so many of the island-s amenities at The Atrium. "Generally speaking, you could drive on to the island and park and not have to move your car for a week," states Qualls, a real estate agent with Seabrook Island Realty. "You can walk just about anywhere you want to go on the island."
Qualls notes that The Atrium-s close proximity to The Beach Club is one reason the community is in such demand. "The villas are located directly across the street from The Beach Club, so you-re close to the pool area and pro shop, and the golf course," he says. "And Seabrook-s two restaurants are right there, not to mention access to the widest, most pristine beach on the East Coast is just steps away."
Built in the mid-1980s, the 44 villas that comprise The Atrium all feature two bed rooms and two baths, as well as covered resident parking. Many offer spacious sundecks, vaulted ceilings, nice furnishings and views of either the ocean or golf fairways.
Still one of the best values on Seabrook Island, The Atrium villas also have great rental potential. "These villas at Seabrook are probably 35% lower than the same properties at Kiawah," points out Qualls. "So the prices are very good."
Seabrook Island is located 22 miles southwest of Charleston. Wholly owned and operated by its property owners, this private, gated barrier island community has preserved the natural environment through a program of conservation and planned growth.
Would you like this content on your website or do you have any questions about this article? If so, contact publisher@mediaservices1.com.